Group Organization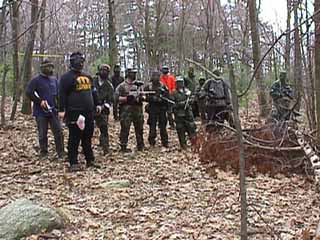 Following are some tips and tools that will assist you with organizing a group of friends, relatives, or colleagues for an exciting day of paintball at our facility:
Distribute
Invitations: Enter your information and print invitations online by clicking on the Invitation link!

Download and Print a Brochure (PDF Format): This will assist you with advertising your event!

Book your date Early online: Reservations can be made online or by phone (508) 769-9954 with most major credit cards. We strongly recommend that you book at least a month in advance and require that you place a deposit on your date 2 weeks prior to game day. However, if you are interested in playing tomorrow, please give us a call or email, as we may have availability.

Bachelor Parties or Group Functions: Check out our additional facilities, which include a full service bar and grill as well as a function hall for after game parties!

Take a deposit of $30 per player as soon as possible: We have found that this truly commits players and you are likely to have a better turn out.

Try to get as many players as possible and suggest to everyone that they bring a friend. The more players you have, the cheaper it becomes for everyone in the group.

Print out our coupons (available online) to present to the field manager on the date of play.

Ask everyone to wear long sleeves, long pants, and boots (or high top sneakers).

If you have any further questions, please don't hesitate to email us or call.